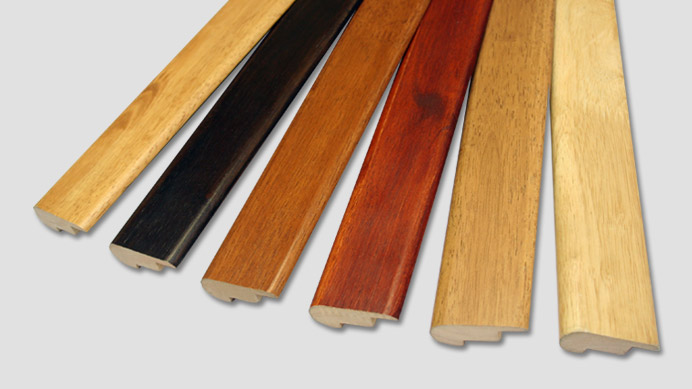 Finish off your flooring installations with our wide range of Floor Mouldings and Floor Trims. FLOORHOUSE Vancouver moulding profiles are mostly available in Red Oak, White Oak, Hard Maple, American Cherry, Brazilian Cherry and Pacific Oak. Both unfinished and prefinished moldings are available. Our prefinished moulding trims are all finished with UV coating. This eco-friendly finish is environmental compliant and is relatively more durable and lasts longer.
We have up to 16 profiles to choose from and currently stock over 200 wood moulding products. We also offer quality finger-joint mouldings at competitive pricing to help keep your flooring project on budget whether it be Hardwood Flooring or Laminate Floors. Please contact us to inquire about specific products and colours.
Quality Control
We thoroughly check all moulding products that arrive at our warehouse for manufacturer defect and moisture.
Transition Moulding
Transition Moulding, also known as T Moulding is used between two adjoining different floor covering surfaces (e.g.: hardwood floors, laminate floors, wood floors, ceramic tile, carpet, vinyl, etc.). Used with any type of installation method. We carry Even T (where two adjoining surfaces have the same height), Thick T 1/4″ Offset and Thin T 1/8″ Offset (where two adjoining surfaces have a height difference).
Reducer Moulding
Floor Reducer Moulding is used for transition between floor coverings where there is a significant height difference. Commonly used in hardwood flooring and laminate flooring installations. We stock 3/4″ Flush Reducers, Small Overlap Reducers (for floating floor installation system) and Large Overlap Reducers (for floating floor installation system).
Stair Nosing
Stair Nosing is used for finishing up the staircases. Use for hardwood flooring or laminate flooring products. Depending on the thickness of the flooring products, available sizes for Flush Nosing profiles are 8mm, 12mm, 14,mm, 15mm, 18mm and 3/4″. Flush Nosing is for glue down and nail down floor systems only (not floating) for all stairs. We also carry Small Overlap Nosing and Large Overlap Nosing that are for floating floor installation system.
End Cap Moulding
End Cap Moulding is used at the edge of hardwood or laminate flooring that will not be continued and a baseboard trim cannot cover the expansion space. For example; around fireplaces, sliding patio doors, sliding closet doors with bottom track, etc.
Shoe Base Moulding
Shoe Base Moulding is used to hide the expansion space between the wall and the flooring around the perimeter of the room where a baseboard trim cannot be used (e.g. cabinet toe kick or under thresholds). Commonly used for hardwood flooring and laminate flooring. Choose from 8 wood species.
Finger Joint Moulding
Try our Finger Joint Mouldings available in 5 common prefinished stain colours and low prices.
Solid Wood Floor Moldings & Trims
3/4″ Flush Nosing
18mm Flush Nosing
15mm Flush Nosing
14mm Flush Nosing
12mm Flush Nosing
8mm Flush Nosing
Overlap Nosing (for floating floors)
T-Moulding
Offest T-Moulding
End Cap Transition Moulding
Overlap Reducer (for floating floors)
3/4″ Flush Reducer
14mm Flush Reducer
Base Shoe Moulding
Slip Tongue Moulding
Primed White Baseboard Moulding
Primed white MDF baseboard 5/8" x 3 1/4″